【Quarantine after entering Japan】Started providing "Welcome Japan" service of "Transfer from Kansai / Haneda / Narita Airport + Rental apartment with furniture and home appliances" by online contract that is completely non-contact, non-face-to-face, and English-speaking.
Adapt to "new lifestyle" with English-speaking, completely non-contact, non-face-to-face online contract (8 languages are available during the stay)
This service has been terminated. このサービスは終了しました。
DID-GLOBAL (headquartered in Chuo-ku, Osaka City; Representative Director: Akiko Kondo) who operates furnished apartments and Apartment Search & Online Reservation System for non-Japanese started a new service named "Welcome Japan" to provide furnished apartments combined with airport transfer service from Kansai, Tokyo(Haneda) and Narita Airports for people entering Japan, in cooperation with Japan Land Service (headquartered in Suginami-ku, Tokyo; Representative Director: Yukio Kawamura, License : Travel Agency registered with Tokyo Governor No. 3-7672) who provides personalized tours and vehicle charter service.
Their accumulated assets "Experiences of service for non-Japanese" and "Omotenashi mind – guest hospitality mind" enable both non-Japanese entering Japan and Japanese coming back during COVID-19 to have quarantine peacefully, safely and comfortably.
Furnished Apartment with Limousine Transfer Service
《Outline of our services》
As the border measure based on Japan government efforts against the new coronavirus infection, Japan quarantine station strictly requires all the people entering Japan to have 14 days quarantine period at designated place and not to use public transportation.
We, DID-GLOBAL, start to provide the one-stop service which combined with furnished apartments for quarantine stay, set of basic daily necessities for after moving in, and limousine transportation service from Kansai International Airport/Haneda Airport/Narita Airport to our each apartment. All procedures and necessary orientations will be completed before coming to Japan by using our developed online search reservation system (Apartment-Japan.com). Thereby, the customers will meet up with the driver at the arrival gate in the airport, sent to the apartment, and be able to move-in directly.
"Furnished Apartments" equipped with necessary furniture, home appliances, and kitchen facilities provide our residents with a more free and comfortable quarantine stay than other types of accommodations.
In addition, we provide this transfer service also from Haneda and Narita airport to Osaka, because number of flights to Kansai are less than to Tokyo, and many people have to stay in Tokyo during quarantine unwillingly. It will be money and time saving for people to have free and comfortable 14 days quarantine at apartments in Osaka where they are supposed to have new life after quarantine in comparison to have only 14 days quarantine at hotels in Tokyo.
​
《Our characteristic services》
◆ Our Japanese & English-speaking staff correspond on all the procedure like room search, reservation, limousine transportation and during stay.
◆ Enable customers to reserve and contract online before leaving their home country by using our Apartment Search & Online Reservation System.
―― Adapted contactless and non-face to face contract system to prevent COVID-19 infection.
◆ All apartments has a private kitchen with electric appliances like microwave and Refrigerator/ Freezer etc.
―― Less mental stress, and healthy life by making good use of both delivery service and equipped appliances to cook favorite meals.
◆ After moving in, we present "Comfortable stay guide book (English ver.)" and "essential daily necessities set" for comfortable quarantine stay.
◆ Internet available*1
―― Internet is essential for quarantine stay.
◆ We have various types of rooms and pricing like studio, 1bedroom, 2bedroom and so on to meet your budget.
―― From monthly rent : JPY38,000 – (some kinds of discount available)
◆ ncluding Pickup service from Airport to properties. We will wait for you at the arrival gate. (English available)*2
◆ It is available from a short-term contract with a minimum of 1 month to a long-term contract with 1 year and more.
◆ Language support and translation service of 8 languages can be used during your stay if needed.
◆ We have optional services like rental bedding, Dishes & Kitchenware set and so on provided by our affiliated companies.
◆ DID-GLOBAL has high standard of prevention of COVID-19.
*1 Optical network Wi-Fi is installed into some properties and for other properties portable high-speed Wi-Fi with maximum 100GB.
*2 The price of limousine transfer service can be changed depends on airport, time, number of people.
《About DID-GLOBAL's Furnished Apartments》
■■Location■■
DID-GLOBAL's rental apartments are mainly located in the central Osaka city, and near subway station or train station, supermarket and convenient stores, so suitable for comfortable life.
◆Osaka-shi Chuo-ku ◆Osaka-shi Kita-ku ◆Osaka-shi Naniwa-ku  ◆Osaka-shi Miyakojima-ku
◆Osaka-shi Higashinari-ku  ◆Osaka-shi Tennouji-ku  ◆Osaka-shi Abeno-ku
◆Osaka-shi Higashisumiyoshi-ku  ◆Osaka-shi Sumiyoshi-ku  ◆Toyonaka-shi   etc.
■■Floor Plan■■
◆1Room  ◆1DK  ◆1LDK  ◆2DK  ◆2LDK  ◆3DK  ◆3LDK etc.
■■Equipment■■
All DID-GLOBAL's apartments are equipped with the following furniture, home appliances and equipment.
◆Kitchen   ◆Bath & Toilet   ◆Wash stand   ◆Refrigerator/Freezer   ◆Microwave
◆Electric Kettle   ◆Single Bed or Double bed    ◆Desk or Table   ◆Armchair or Sofa
◇Balcony*    ◇TV*       ◇Washing machine*
   * For TV, washing machine, and Balcony, some rooms do not have them. 
■■URL for Apartment Search■■
https://did-global.com/search-reservation/
https://apj-didglobal.com/search?city=&move_in=&term=1 
Please search by specifying different preferences such as room type, price range, location, contract period, indoor facilities, etc.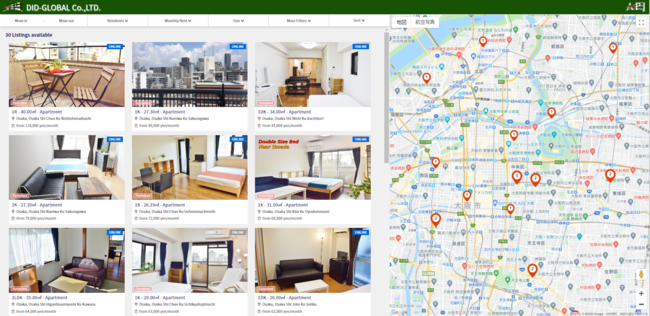 物件Image of Search result screen
《About DID-GLOBAL》
DID-GLOBAL has placed the head quater in Chuo-ku, Osaka, and been providing furnished rental apartments for non-Japanese people who can speak English since our inauguration. We mainly operate reasonable price range properties for customers like English teachers, studying abroad students, working-holiday residents, or other workers, but we also operate high price properties for foreign affiliated air company or diplomat.
The Apartment Search & Online Reservation System "Apartment-Japan.com" we developed is a breakthrough web system by putting our experiences and knowledges how to operate rental apartments for non-Japanese people into it and observing "Building lots and buildings transaction business law". This system enables landlords all over Japan to lend their properties directly to non-Japanese people online, and enables non-Japanese users to complete all procedures online from reservation to how to move in with well-understanding of contract terms as like they book hotels. (This system is developed as subsidy project of Small and Medium Enterprise Agency, and adopted as CO+CREATION KOBE Project of Kobe city.)